---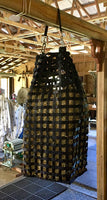 * The VERTICAL NibbleNet ® PLENTY bag measures 46" x 19" x 16"
Available with 1.5" openings only
** HOLDS (1) SMALL 2-STRAND 50# BALE
* Our 50# BALE MEASURES 40 X 20 X 15
* INCLUDES D-RINGS ON TOP, (2) CARABINEERS & (2) HANGING STRAPS TO SECURE
* STAND YOUR BALE ON END, SLIDE THE BAG OVER THE BALE, FLIP, CLOSE AND VOILA!
* EASY TO HANG ANYWHERE
* ALL STAINLESS STEEL D-RINGS

We figure that 50 pounds of hay will fit into this bag.

As with all Premium products:
All D-rings on the Double-Nibble bags are stainless steel
40 ounce vinyl
ALL STAINLESS STEEL HARDWARE

***Please observe your horse and remember that safety is paramount with our beloved equines***
The NibbleNet ® is extremely safe and durable.
Please take care in how you secure any bag or any object around horses.