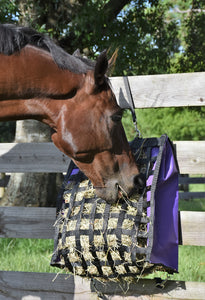 About NibbleNet ®
We are the designers and manufacturers of NibbleNet ®, a revolutionary hay bag.  THE NibbleNet ® is designed by a horse lover for horse lovers.  The unique design and high quality construction make this the ideal way to feed hay to your horses.  The 2", 1.5" or 1.25" openings in the front of the bag allow the horse to "graze" for his hay in a much more natural way.  Instead of gulping down big mouthfuls, he has to work for the hay, one bite at a time.  This slows him down, which is much healthier for his digestion, and keeps him busy much longer.  The design of NibbleNet ® is such that there is also much less waste of hay. 
These are excellent for horses with feed related health issues, like laminitis and obesity.  Perfect for horses that don't have a lot of turn out time like show and race horses.  Ideal for traveling and trailering.
The quality of construction and heavy duty outdoor materials make NibbleNet ® far superior to similar bags on the market.  We are so confident in the quality of this hay bag that we offer a limited warranty against defects in materials or workmanship.
Read more about our unique design and features here.
---
Featured collection-Standard NibbleNet ®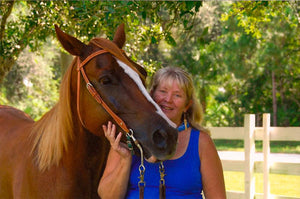 About Deb
Romancing the Wind
Deb had always been intrigued by things that are moved by the wind... sailboats, hot air balloons, clouds, just being out in nature. And being creative, she figured out a way to turn her passion into a career. In the early 1970's she began working with the lightest of fabrics designing and building hot air balloons. Deb never thinks small!
Did you know there are 3 to 4 miles of sewing involved in the creation of each balloon? And she didn't stop there. Once she understood the architecture of balloon design she set about designing leather applications for the gondola baskets, those beautiful wicker structures that hold people and ballast the balloon. Learn more about Deb!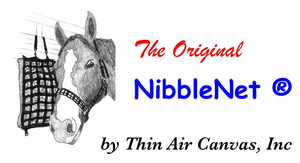 NibbleNet ® The Original NibbleNet® NOT SOLD IN CATALOGS
Healthy and Safe Slow Feeding System