---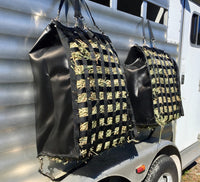 Introducing our new 940  Premium

We know that some of you live in extreme cold conditions and have horses and environments that are extremely rough on things, so we have created two new bags!
Rough, inconsistent and uneven surfaces, and especially round pen corral panels can be very hard on the vinyl, but the 40 ounce stands strong!
This are the exact same as as our existing NibbleNet ®: the 9" deep (the new 940).
We have replaced the vinyl backing with our extreme heavy duty 40 ounce vinyl!

Available in Black only
Available with 2" or 1.5" squares
ALL STAINLESS STEEL HARDWARE

The 940 is 24" x 22" x 9"


 PLEASE NOTE:  ALL OF OUR 9" AND 940 DEEP NIBBLENETS HAVE A DIFFERENT STYLE D-RING CONFIGURATION ON THE TOP.  THERE ARE (2) SETS OF D-RINGS WHERE THE STRAP ATTACHES AND IN THE CORNERS THERE IS A BELT-STYLE CONFIGURATION WITH (2) D-RINGS ON ONE SIDE AND A TAB ON THE OTHER TO SECURE THE BAG CLOSED. 
WE DID THIS BECAUSE THE 9" BAG IS A SHORTER BAG (24") TO PROHIBIT THE HORSES FROM STICKING THEIR NOSE IN THE TOP CORNER.
IF YOU NEED (4) SETS OF D-RINGS ON THE TOP YOU NEED TO ORDER THE 12" XL. 
THE 9" NIBBLENETS ALL COME WITH (2) STRAPS
***Please observe your horse and remember that safety is paramount with our beloved equines***
The  NibbleNet ® is extremely safe and durable. Please take care in how you secure any bag or any object around horses.